By Annie Ross
Here's what you'll need to know about today's Villanova basketball championship parade today at 1 p.m.
It will step off from 20th and Market streets in Center City and then head east toward City Hall, concluding at City Hall's Dilworth Park.
The men's basketball team and coaching staff, as well as Villanova University's cheerleaders and band, will all participate.
Following the parade, a rally will be held at Dilworth Park where head coach Jay Wright and members of the team are all scheduled to address the crowd.
The event is expected to last about two hours, and the city is planning for at 50,000 people to show up.If you're coming to show your support, city leaders say pay attention to parking restrictions and other signage.
"We figure that the parade will actually be about an hour," said the city's David Wilson, "and then the program, anywhere from half an hour to 45 minutes. Our key concern is to be able to get Center City back open for rush hour."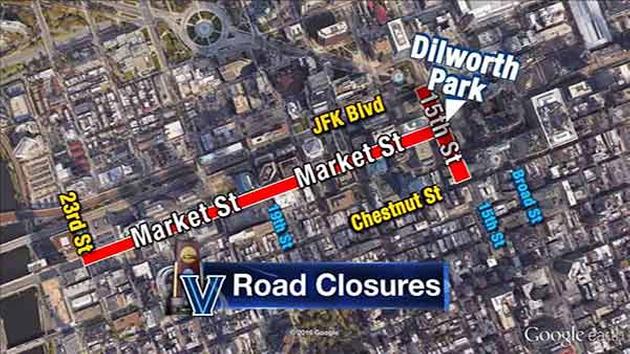 Market Street – 15th to 23rd Streets
15th Street – JFK Boulevard to Chestnut Street
Cross traffic on Market Street, from 16th to 22nd Streets, will be closed prior to the parade step-off and will resume on a rolling basis after the parade passes and streets are cleared.
Vehicular traffic in the vicinity of City Hall will be diverted as follows:
Parking Information
City of Philadelphia temporary "No Parking" signs will be posted, and regulations will be enforced strictly. Parking along the parade route will be prohibited, and all vehicles on the route will be towed, beginning at 6 a.m. on Friday, April 8 until at least 5 p.m. "No Parking" areas will include:
Market Street – 15th to 23rd Streets
15th Street – JFK Boulevard to Chestnut Street
SEPTA Service Details
SEPTA officials say extra capacity will be added to the Norristown High Speed Line, Market-Frankford Line, and the Broad Street Line on Friday.
The NHSL provides service from the Villanova University area with stops at Radnor, Villanova and Stadium Stations. NHSL passengers can transfer to the MFL at 69th Street Transportation Center to continue the trip to Center City.
SEPTA's Paoli/Thorndale Line serves stations in Radnor, Villanova and Rosemont. Paoli/Thorndale Line trains run every 30 minutes.
The parade route will impact SEPTA bus service in Center City. Bus Routes 2, 4, 7, 16, 17, 27, 31, 32, 33, 38, 44, 48, 62, 124 and 125 will be detoured around City Hall and Dilworth Park from 10:30 a.m. to 6 p.m.
SEPTA's 15th Street MFL stations and the City Hall BSL station are scheduled to remain open during the parade. However, SEPTA officials say if conditions become overcrowded, those stations will be bypassed.
Passengers should use 13th Street MFL and Walnut-Locust BSL stations in the event 15th and City Hall Stations are closed.
Passengers for Trolley Routes 10, 11, 13, 34 and 36 should look for service announcements regarding possible station closures.
SEPTA officials say they expect a regular morning commute on Friday, but reminds all regular passengers that the evening commute, especially on the Paoli/Thorndale Line and NHSL, could be extremely heavy as the parade will end just prior to the start of the evening rush hour.
Paoli/Thorndale Line passengers at Suburban Station will be wait on the concourse level, not the platform, on Friday evening.
SEPTA personnel will be on hand to direct passengers.
SEPTA urges those using its trains, buses and trolleys for the parade to purchase their tickets, passes and tokens in advance.