By Peter Gleason
No Eagle has endured more criticism from the gang of lame-ass local media like Eliot Schorr-Parks than quarterback Sam Bradford.
Well, last night he went a long way to shutting up those whiners!
Bradford ran Doug Pederson's offense beautifully against the Indianapolis Colts to the tune of 167 yards, two touchdowns and an interception on 17-of-20 passing in a 33-17 Eagles win.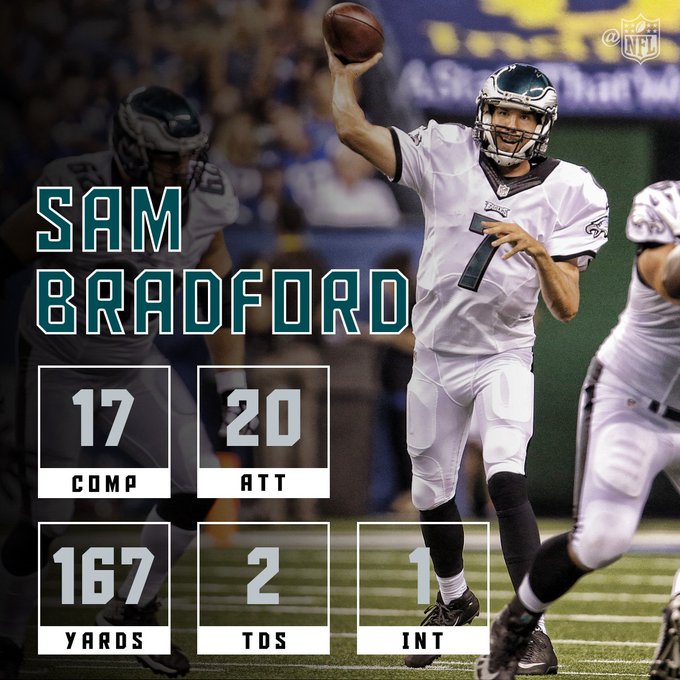 "I made a decision way back in OTAs to split all the reps equally three ways all the way through training camp," Pederson said of his trio of quarterbacks that includes Bradford, Chase Daniel and rookie Carson Wentz.
"This is the first week Sam's had 100 percent of the reps, and it showed tonight. He was high-percentage, just seeing the field and putting the ball exactly where he wants to put it."
Daniel also looked sharp with 104 yards and touchdown on 9-of-12 passing. As for Wentz, the prized second-overall pick from April's draft, he didn't see the field as he continued to deal with fractured ribs from his only action in the first week of preseason. Pederson said Wentz is "in a position to possibly play next week" against the New York Jets.