Jurgensen (left) with Peter Retzlaff, Timmy Brown and Tommy McDonald.
By Mary Cunningham
Mark Sanchez is preparing to make his first start as Eagles quarterback, having stepped in for the injured Nick Foles last Sunday in Houston.
Sanchez acquitted himself admirably and the Birds beat the Texans 31-21.
So, now the local media are filled with stories about other Eagles' back-up QBs — Michael Vick, Randall Cunningham, Jeff Garcia, A. J. Feeley, and the list goes on.
But they have all overlooked the greatest back-up quarterback in team history, who, by the way, is now in the Hall of Fame.
Fifty years ago, the Eagles rid themselves of a top-notch player only to watch him succeed in Washington. And that player was especially dominant against Philly.
It was March 31, 1964 when the Eagles traded quarterback Sonny Jurgensen to Washington for quarterback Norm Snead.
Jurgensen had spent the first four years of his career backing up Bobby Thomason and then Norm Van Brocklin in Philly, but before the 1961 season, the Eagles finally turned the team over to Jurgensen. And he promptly was fantastic, going 10-4 that year and leading the league in completed passes, passing yardage, touchdowns, and yards per game (and interceptions).
He was set to be a superstar.
But Jurgensen lived an active night-life and he missed half the 1963 season with an injury, and even though he had led the league again in 1962 in passing yardage and yards per completion, the Eagles went 5-15-2 combined in 1962 and 1963 when Jurgensen started. Oh, and he tried to stage a quarterback strike with backup King Hill and walked out of training camp before the 1963 season.
So, Philadelphia did this.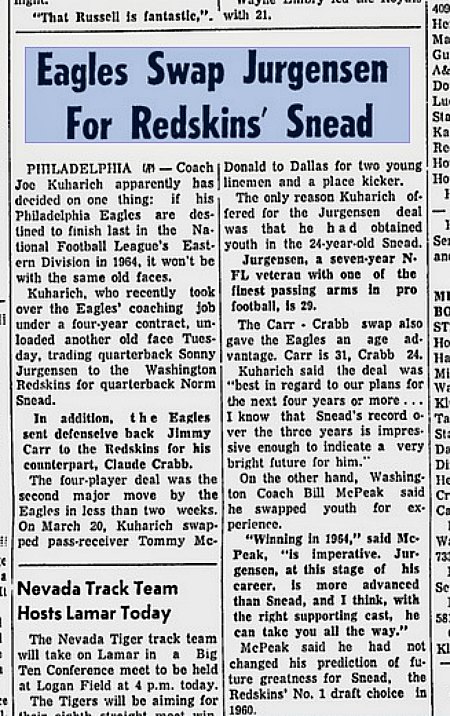 And on Oct. 11, 1964, Jurgensen, in a Redskins uniform facing his old team for the first time, did this in response.
In that 35-20 victory, Jurgensen went 22 of 33 for 385 yards, five touchdowns, two interceptions and a quarterback rating of 120.6. Making matters worse for Philadelphia, the two teams played again three weeks later, and though Jurgensen was mostly ineffective, the Redskins scored another win vs. the Eagles.
This was a trend that would continue throughout his career — Jurgensen went 13-3 as a starter vs. Philly while throwing 33 touchdowns against 16 interceptions.
"After they traded me, it was always a special game for me," Jurgensen has said. "Anybody who tells you differently is lying."
Jurgensen didn't only have success against his old team. After he was traded, he made the Pro Bowl in three of the next four seasons and eventually was elected to the Hall of Fame.
If you know much about Snead in a context other than this trade, congratulations on your football knowledge. While Snead made the Pro Bowl in 1965 and though he played until he was 37 during the 1976 season, he led the league in interceptions twice in Philly while racking up a 9-26-2 starting record in his final three seasons there.
Jurgensen became a local hero in DC, and he is still doing the Redskins games on radio.