So says ESPN:
2017-18 record: 52-30 BPI odds vs. MIA: 78 percent
The Sixers are one of the most compelling teams in the playoffs. We all want to see how Rookie of the Year favorite Ben Simmons handles the spotlight of his first postseason and how much of an impact 2017 No. 1 pick Markelle Fultz can make against Miami. Most importantly, we want to know if Joel Embiid can return during the series following surgery to repair the orbital bone fracture around his left eye. (Injury status aside, we can't wait to see what Embiid has planned for social media during the postseason.)
Who has the most to prove? Does Philadelphia's young core of Embiid, Simmons, Fultz and Dario Saric have a ton to prove in the postseason? Probably not. That group — minus Fultz for most of the season — helped lead Philadelphia to its first playoff appearance in six seasons after a four-year stretch in which the franchise lost an average of 63 games. You can make an argument that coach Brett Brown has more to prove in the postseason than any of his players. Brown admirably endured all of the losing to get to this point. Now that he's here, his strategy, substitution patterns, lineup usage and in-game adjustments will be heavily scrutinized.
Season in a single game: April 6 The season-defining win came Friday, when the Sixers beat LeBron Jamesand the Cavs to notch a 13th straight win and move past Cleveland into the third seed in the Eastern Conference. They led by 30 in the first half and held on late behind Ben Simmons' triple-double (27 points, 15 rebounds, 13 assists). Simmons' play that night caught the eye of James, whom the Sixers might face again soon. "He's a student of the game. He wants to be great," James said of Simmons.
What the stats say: Believe it or not, a rookie leads the NBA in total touches this season with 7,589. According to Second Spectrum, Ben Simmons has more touches than MVP front-runners James Harden (5,986) and LeBron James (7,131).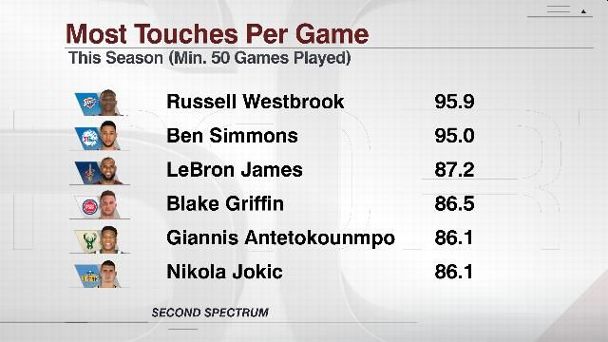 Season is a success if … The organization — and its fan base — wants to beat Miami in the first round and see what it can do against Boston or Milwaukee in the East semis. But the fact that Philadelphia has made it to this point — after four seasons in which lottery odds were more important than wins and losses — is a measure of success in and of itself. Former general manager and president of basketball operations Sam Hinkie stripped the organization down in 2013 with the goal of building the foundation of a team that can contend for championships. Based on what we've seen this season, the Sixers seem to be on their way to fulfilling Hinkie's vision, no matter what happens this spring.
http://www.espn.com/nba/story/_/id/23081192/everything-need-know-binge-worthy-nba-playoffs