The Phillies went 11-10 when rookies Aaron Nola (above) and Jerad Eickhoff started this season. It might not seem like much, but it shows just how much a little quality pitching can help an offensively challenged lineup.
By Martha Sullivan
Now that the Phillies have found their new general manager in Matt Klentak, they headed to Clearwater last week to plot a strategy:
For 2016 and beyond.
According to MLB.com's Todd Zolecki, the Phillies aren't ready to dive deeply into free agentry, but they are planning to add a few pieces.
"We will definitely do our best to improve the team for next year," Klentak told Zolecki last week. "I'll stop short of saying we're going to pursue any kind of player or brand of player, because frankly I don't know that yet. But yes, we have every intention of making the club better this winter."
Free agents/options: The Phillies have five players eligible for free agency: right-handers Chad Billingsley, Aaron Harang and Jerome Williams; left-hander Cliff Lee; and outfielder Jeff Francoeur. None of the pitchers are expected to return, including Lee. The club will pay him a $12.5 million buyout on Nov. 15.
Francoeur has said he would like to return to Philly, and it is something the Phillies should consider. Francoeur proved to be a better-than-advertised presence in the clubhouse, providing vocal leadership to a team that sorely needs it. He also hit .258 with 13 home runs, 45 RBIs and a .718 OPS.
"I talked about culture," Klentak said. "I think there are a variety of ways to sort of create the environment to allow a culture to form. One of them is no doubt bringing in veterans with strong makeup and a wide array of experiences. One hundred percent, I think that's really important. If players are playing confidently and they're having fun and they're enjoying each other's company, they're more likely to reach their ceilings and be the best versions of themselves."
Of course, it remains to be seen how much CEO Andy MacPhail and Klentak (below) value a player like that, but if they are looking for a veteran to nurture and motivate their young talent and show them how to be a pro, it would be difficult to find better.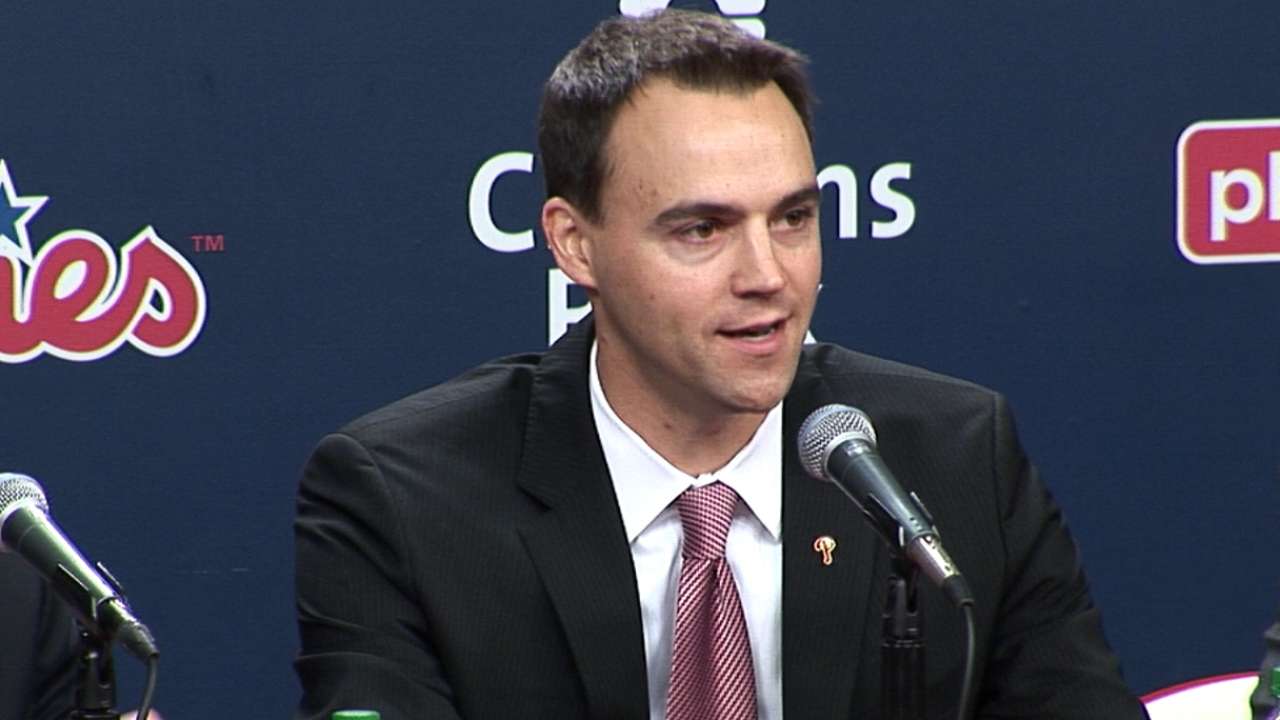 Needs: The Phillies need pitching. A lot of it. They need at least a couple reliable veterans to fill out the rotation. They need at least one or two reliable relievers. The Phillies went 11-10 when rookies Aaron Nola and Jerad Eickhoff started this season. It might not seem like much, but it shows just how much a little quality pitching can help an offensively challenged lineup.
"If you can pitch, you have a chance to win every single night," Klentak said. "That will absolutely become an organizational focus for us. To add pitching at every turn. In trades, through waiver claims, in the Draft, internationally, free agency. However we need to do it, we will add pitching, pitching, pitching."
Besides that, the Phillies are likely to add a veteran outfielder or two, especially if they do not re-sign Francoeur.
Potential targets: When it comes to starting pitchers, think along the lines of Doug Fister, former Phillie J.A. Happ and Bartolo Colon — guys who can pitch six or more innings and give the offense a chance. When it comes to relievers, we're talking about seventh-inning types who can be the bridge from starter to closer Ken Giles. In terms of an outfielder, preferably somebody with some pop.
Trade assets: Do not expect the Phillies to trade any of their top young prospects. Now is not the time for that. But they could trade some of their young big league talent to help fill some holes, especially if they believe they have prospects coming through the system that could take their place before the end of next season.
Financial situation: The Phillies finally cleared a bunch of salary from their books. They still owe Ryan Howard $35 million next year, including a $10 million buyout on a 2017 club option. They still owe Carlos Ruiz $9 million, which includes a $500,000 buyout. They are paying $28 million of injured pitcher Matt Harrison's contract, although it is believed insurance could take care of 75 percent of that. But while they have money to spend, the Phillies are not expected to be major players in free agency this winter.
"I don't think you can buy a winner," Phillies owner John Middleton said. "Specifically, you have to build baseball teams from the ground up."
Bottom line: Expect the Phillies to acquire a few pieces to fill out the roster, but continue to focus on their young talent. They hope their talent at the major and minor League levels continues to improve, and in a year or two the Phils re-enter free agency in a big way.