By Sam Bush
Somewhere Billy Buckner is laughing.
Or maybe commiserating with New York Mets' second baseman Daniel Murphy, whose error last night on a routine grounder brought back memories of Buckner's 1986 miscue for the Boston Red Sox and opened the floodgates for the Kansas City Royals.
For the seventh time this postseason, the Royals came from behind to win. Fueled again by a patient offensive approach and Murphy's devastating defensive mistake, Kansas City grabbed a 5-3 win in Game 4 of the World Series on Saturday night at Citi Field.
| Game | Date | Air time/game time | Matchup | TV |
| --- | --- | --- | --- | --- |
| Gm 1 | Oct. 27 | | KC 5, NYM 4 (14) | |
| Gm 2 | Oct. 28 | | KC 7, NYM 1 | |
| Gm 3 | Oct. 30 | | NYM 9, KC 3 | |
| Gm 4 | Oct. 31 | | KC 5, NYM 3 | |
| Gm 5 | Nov. 1 | 8 p.m. | KC@NYM | FOX |
| *Gm 6 | Nov. 3 | 7:30 p.m./8 p.m. | NYM@KC | FOX |
| *Gm 7 | Nov. 4 | 7:30 p.m./8 p.m. | NYM@KC | FOX |
Murphy may be the most significant reason the Mets won the National League pennant, willing them to victory after victory in postseason play. But his eighth-inning fielding error on a routine grounder by Eric Hosmer allowed Ben Zobrist to scoot home with the tying run. Moments later, Mike Moustakas singled in the go-ahead run past the glove of a diving Murphy, and Salvador Perez knocked in another insurance run.
Then Royals manager Ned Yost called for closer Wade Davis to come in and get six outs, which he did. Checkmate. Davis had the Royals' first two-inning save in postseason play since Dan Quisenberry in Game 4 of the 1980 World Series.
"We feel like if we can keep the game close, we're going to find a way to win it," Yost said. "Our bullpen is so dynamic, they give us a chance to win those type of games. And it's a team that just looks for a little crack. If we find a little crack, they're going to make something happen."
Teams holding a 3-1 lead in best-of-seven postseason series are 68-12 (.850) all-time, and 39-6 (.867) in World Series play. No team has come back from a 3-1 deficit in the World Series since the Royals in 1985.
"When you win the first two games at home, going into it your goal coming in here is winning two games here," Yost said of having a chance to clinch on Sunday in New York, before the Series would go back to Kansas City. "But you know if you win one here, you've got two games at home, where we're really, really tough."
Trailing, 3-2, entering the eighth inning, the Royals drew consecutive one-out walks against Tyler Clippard, prompting Mets manager Terry Collins to call on closerJeurys Familia to try for a five-out save. The first man he faced, Hosmer, sent a bouncing ball to the right side, where it scooted under Murphy's glove and into right field. As the largest Mets crowd in Citi Field history (44,815) grew mostly silent, Zobrist raced home.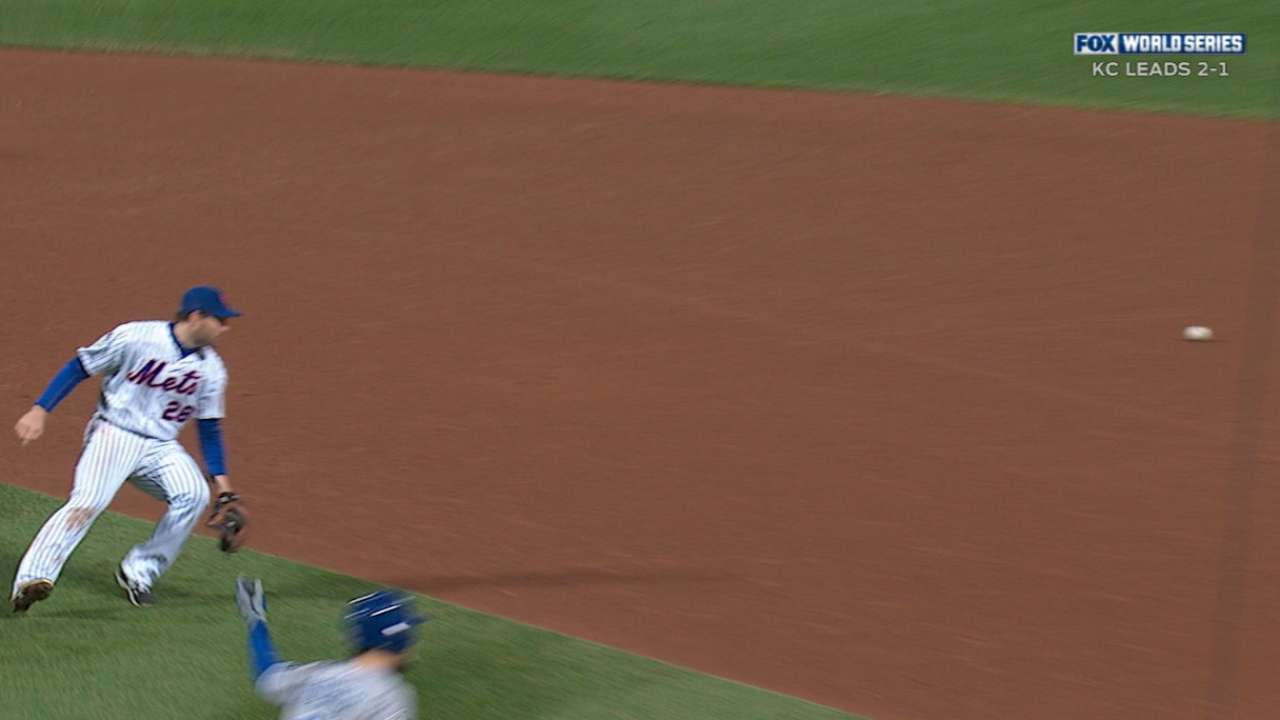 "I tried to one-hand it," Murphy said. "It probably deserved to be two-handed. I just misplayed it. It went right under my glove. They made us pay for it. It put us in a really bad spot, and that's frustrating."
The result was the second blown save of the Series for Familia, who also served up a game-tying homer to Alex Gordon in the ninth inning of Game 1.
"They truly don't ever stop," Collins said of the Royals' offense. "They have a very good lineup from top to bottom. They can do a lot of things. They're athletic. So like I say, you've got to make pitches and you've got to get outs when you have the opportunity."
Familia's misstep undid the early work of Mets rookies Michael Conforto and Steven Matz. The former became the third-youngest player to homer twice in a World Series game, while the latter delivered five-plus innings of two-run ball had New York poised to tie the Series.
Right-hander Chris Young started for the Royals and gave up two runs through four innings, then Danny Duffy, Luke Hochevar and Ryan Madson (1-0) bridged the gap to Davis.
"We can smell it now," Young said. "But we know we have work to do yet."