Says Kevin O'Connor of the Ringer.com:
Coach Brett Brown has been tweaking his rotations a lot.
At the start of the season, Fultz and Ben Simmons played a load of minutes together, but over the past six games, they have shared the floor far less frequently.
Fultz went from playing half of his minutes with Simmons over their first three games to only one-third over their last six. During this stretch, Fultz and Simmons have played no more than nine minutes together in a single game. They still both start games, but Brown altered his substitution patterns to effectively stagger them after that.
Just like earlier in the season, JJ Redick starts in the second half. But now, Fultz runs the show anytime Simmons is on the bench. "What I'm trying to do is have it all," Brown said last week after the Sixers beat the Hawks. "You can play them a little bit together, then separate them. Give one the ball and then the other person the ball. I've said quite candidly that Markelle is a point guard. And Ben is the Rookie of the Year as a point guard. We mix and match a little bit, but it is a challenge."
Brown's decision to allow Fultz to be a point guard without Simmons on the floor has unlocked aspects of his game that were last seen during his brief appearance at Las Vegas summer league before his rookie season. Fultz is aggressive again. He's attacking the basket, drawing more fouls, and creating quality looks for his teammates. The difference pops up in the numbers: He logs 19.9 points and eight assists per 100 possessions without Simmons on the floor, and only 12.1 and four when he is. You can see it with your own eyes:
Fultz looks more like Fultz when he's not on the floor with Simmons. He still isn't an effective shooter away from the rim, but he wasn't the no. 1 pick for his shooting. While developing his jumper is the key to rediscovering his star potential, Fultz was a maestro at running the pick-and-roll in college, presenting a combination of size (6-foot-4) and agility that made him a tough cover. And over the past three games, Fultz has also been more competitive defensively, fighting through on-ball screens and blocking shots.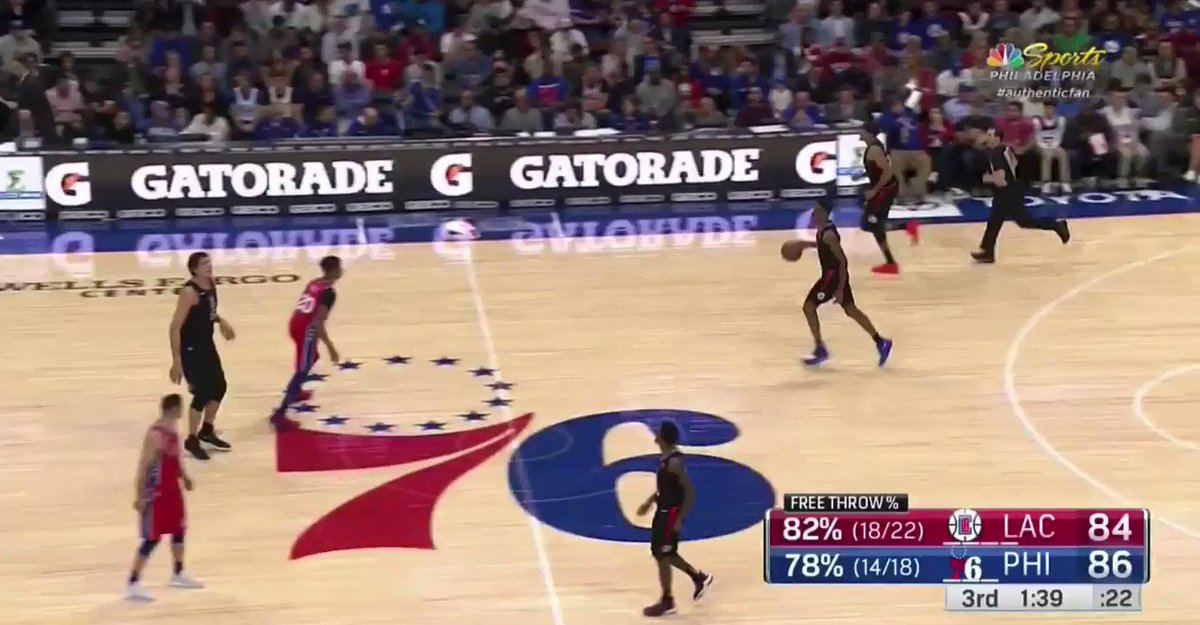 "I feel like he brought us back to life," Simmons said after the Sixers beat the Clippers last week. "The way he was playing was amazing." You wouldn't have heard that earlier this season. But simply altering rotations has stirred Fultz.
There will be bumps along the way, moments of frustration that cause Brown to look down the bench and call for McConnell. The Sixers need to focus on winning games, though; they have two top-25 players in Embiid and Simmons, giving them a legitimate chance to reach an NBA Finals and become an even more appealing free-agent destination as a team with max cap space that needs just one more piece. Winning regular-season games to improve playoff seeding would help their cause considering their stellar home-court crowd. And the Sixers need Fultz to turn into something of greater, consistent value because they don't have the depth that the Celtics do behind Hayward. If the Sixers are to make a June run this season, Fultz has to be a big part of it.
I'd like to see Brown be as creative with Simmons and Fultz on the floor together as he is in staggering their minutes. Simmons is a bouncy athlete; why not run the high pick-and-roll with Simmons screening for Fultz? Simmons can throw down lob dunks like Blake Griffin or hit an open man like Draymond Green. It's not like Simmons hasn't done it with both LSU and Philadelphia:
https://www.theringer.com/nba/2018/11/5/18063560/boston-celtics-philadelphia-76ers-gordon-hayward-markelle-fultz-minutes