By Peter Gleason
The NFL has had a lousy offseason, what with rule changes on helmet hits and kick-offs.
But the big reason for the bad pub has been its policy of the national anthem.
What?
Originally, the idiots who run the league gave in to President Trump's misguided criticism of players kneeling during the national anthem, even though they were clearly protesting police misconduct against African-Americans all over the country.
Trump, of course, has made it an issue of patriotism.
Which is ironic, since he is a five-time draft dodger.
Then, the league changed its mind.
So Malcolm Jenkins of the Eagles, one of the most outspoken players in recent years, was joined by his teammate, De'Vante Bausby, in raising a fist while the anthem was played last night at the Linc during the Eaglers-Steelers game. As had been customary in the past, Chris Long, a veteran defensive end, stood next to Jenkins with a hand on the defensive back's shoulder.
For Jenkins, who had stopped demonstrating last season after he and a coalition of players secured increased funding for social issues from the league, the preseason game represented a return to his old form. In addition to raising his fist, Jenkins and some of his teammates on the defending champion Eagles took the field for warm-ups wearing T-shirts highlighting various statistics about racial disparities in prisons.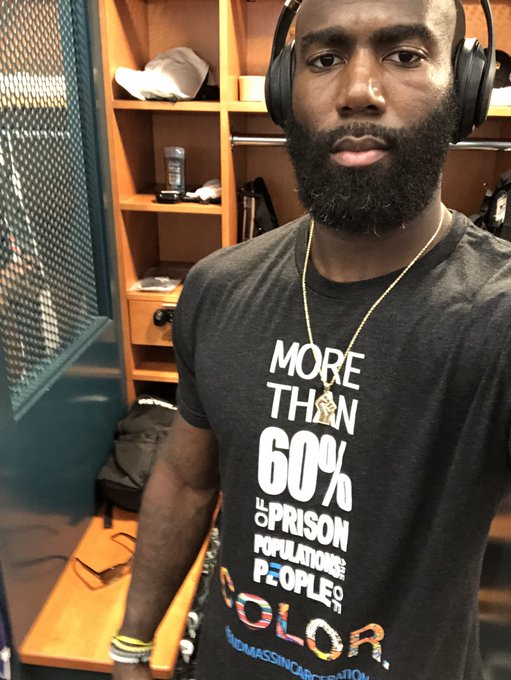 Jenkins tweeted: Before we enjoy this game lets take some time to ponder that more than 60% of the prison population are people of color. The NFL is made up of 70% African Americans. What you witness on the field does not represent the reality of everyday."
That Jenkins went back to demonstrating was not surprising after his strong reaction to recent changes in the league policy regarding behavior during the anthem.
"Quite frankly, guys in our league don't like being told what to do, what they can and can't do," Jenkins told Philly.com. "We don't have this type of policies for the other causes we support, whether it be our 'Salute to Service,' or breast cancer awareness, or anything else. It's just when you start talking about black folks, quite frankly. It's disheartening, but we'll continue to be creative."
The protests came less than three months after the league, without consulting the players' union, updated its rules to obligate players to stand on the field during the national anthem, or remain in the locker room. Previously, players were obligated to be on the field but were only encouraged to stand.
Over the past two seasons, dozens of players across the league protested during the anthem to raise awareness of social injustice and police brutality against black people. The protests turned into a full-blown crisis for the league last September when President Trump criticized the league's owners for not penalizing players who protest.