3. EAGLES (VIA DOLPHINS): QB JUSTIN FIELDS, OHIO STATE
With Carson Wentz likely on his way out of Philly, the Eagles need to get aggressive at upgrading at the quarterback position in April's draft.
Rookie Jalen Hurts showed flashes of competence as the team's starter, but he still finished the last four weeks of the season as one of the lowest-graded quarterbacks.
Fields has his own fair share of concerns as a prospect, but he's still the No. 3 overall player on PFF's board and the first-ranked college quarterback in terms of PFF passing grade over the past two seasons (2019-20).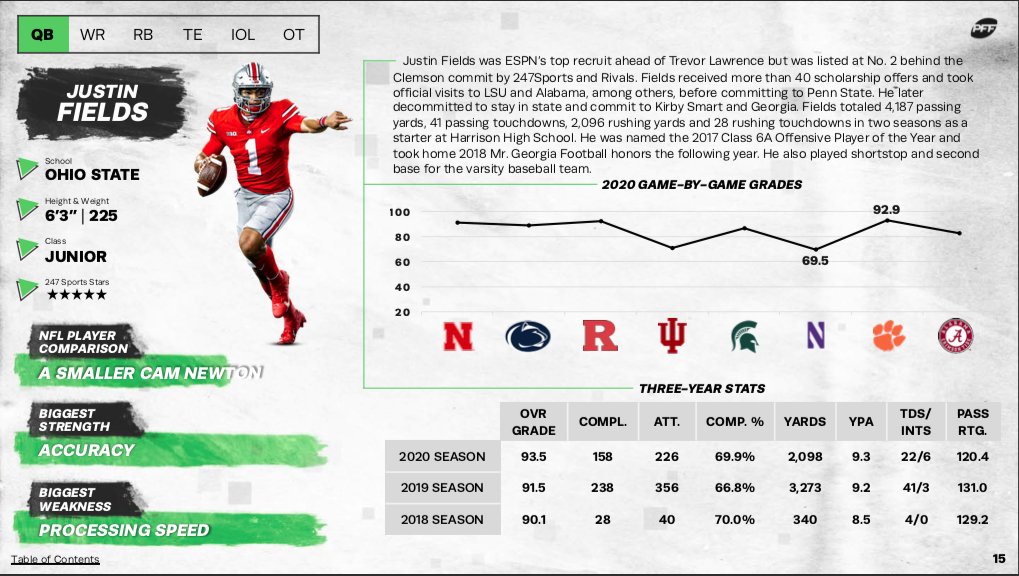 PFF's 2021 NFL Draft Guide is loaded with three-page draft profiles on hundreds of NFL draft prospects in the 2021 class. The draft guide also includes three-year grades, advanced stats, player comparisons, 2021 NFL Scouting Combine data, 2021 Reese's Senior Bowl grades and much more. Click here to get your copy today!
https://www.pff.com/news/draft-2021-nfl-mock-draft-philadelphia-eagles-trade-up-justin-fields-dolphins-tua-tagovailoa-jamarr-chase